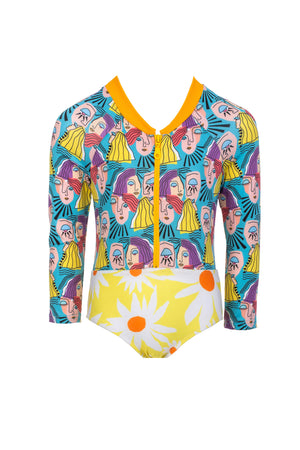 Kids Erica Long-Sleeve Zip Onepiece | Faces, Daisies
Long-sleeve One-piece cut from two different printed soft strech fabrics.
Slips On , Zips in the front

Fits true to size
Hand wash cold
90% Polyester - 10% Elastane
95% Polyamide - 5% Elastane
Lining: 75% Polyamide - 25% Elastane
UV protection 50+
Avoid drying in direct sunlight
Avoid oil and tinted lotion/sunscreen
Sunscreen, oil, and chlorine may cause discoloration of this item; this is not a manufacturing defect. Following the care instructions will help you keep your swimwear in the best condition!